NYC Brunch Spots – The Best Brunch Spots With The Worst Reputations
Brunch Spots Are All Over NYC – And We Have Them Covered
Brunch may be a New York institution, but too often the perfect brunch experience gets messed up by long lines, watered-down mimosas and substandard eggs. Ugh. But don't despair, dear bruncher: With our guide to the best restaurants in NYC for brunch, you can discover under-the-radar and overlooked joints by browsing the full list of spots for the best brunch. NYC also has plenty of options to narrow it down by borough (looking for the best bagels in your neighborhood?). Plus, whether you're looking for top-notch mimosas, Bloody Marys or unique cocktails, we have your day-drinking bases covered with our list of boozy and bottomless brunch spots. In short: Read on, and own brunch.
---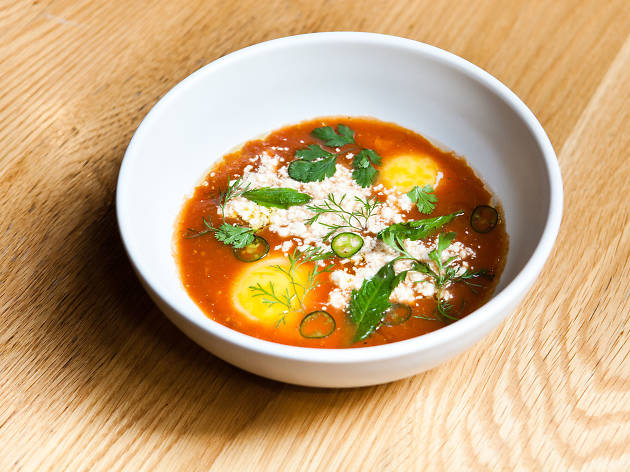 Cosme
Enrique Olvera's Mexican blockbuster has been a tough reservation to snag since its opening in late 2014—a #squadgoals dinner starring Jennifer Lawrence, Emma Stone and Adele this past November likely hasn't helped matters—but it's less of a chore to enjoy the smash hit during brunch service. Pull up a stool at the sleek, blond-wood front bar for a serrano-fuesed Bloody María and inventive Mex plates like seafood-stuffed avocado (take that, avocado toast) and duck enmoladas dolloped with crème fraiche.
---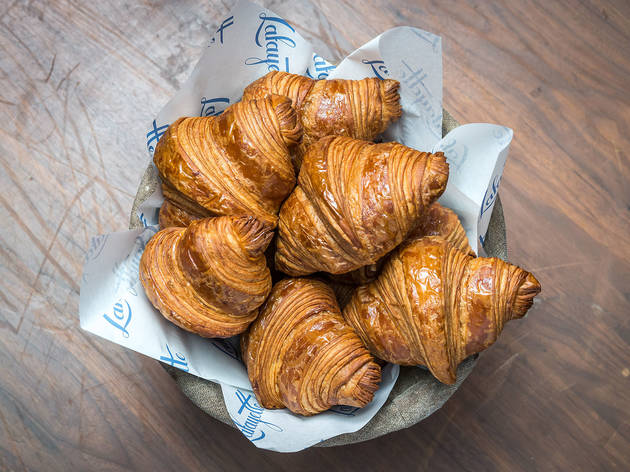 Lafayette
The glowing Noho café from Andrew Carmellini—the man behind perpetually crowded downtown spots the Dutch and Locanda Verde—is like the 2016 answer to that bustling Sex and the City–era favorite, Balthazar, with booths as buttery as béarnaise and an A-list clientele that includes Anna Wintour and Gwyneth Paltrow. Lush bistro eats are the go-to—think beef tartare with Tabasco aioli and soft-scrambled eggs with chèvre and truffle vinaigrette—punctuated by pâtissier Jennifer Yee's acclaimed breads and viennoiseries.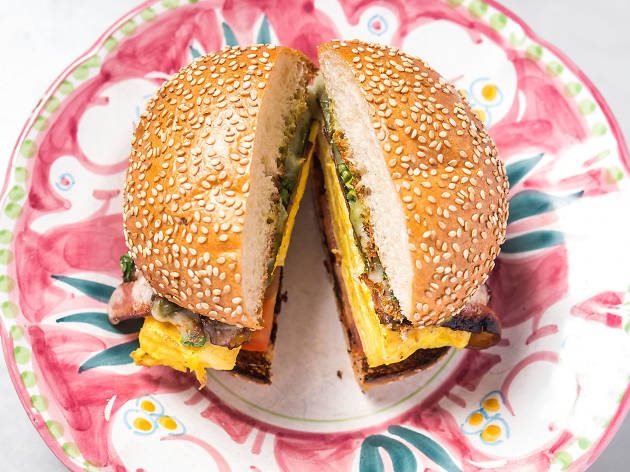 Santina
Eateries under the Major Food Group umbrella, the one that brought us Sadelle's and Dirty French, are equal parts sustenance and scene. This Meatpacking number, a people-watching glass box tucked beneath the High Line, is no exception: It's a glossy Italian-coast concept set with coconut iced coffees and rock-shrimp frittatas. Brunch is a mash-up of the restaurant's heavyweight breakfast and lunch menus, including the kitchen's excellent, upmarket take on a bacon egg and cheese, festooned with tomato sofrito, gooey fontina and green chilies.
---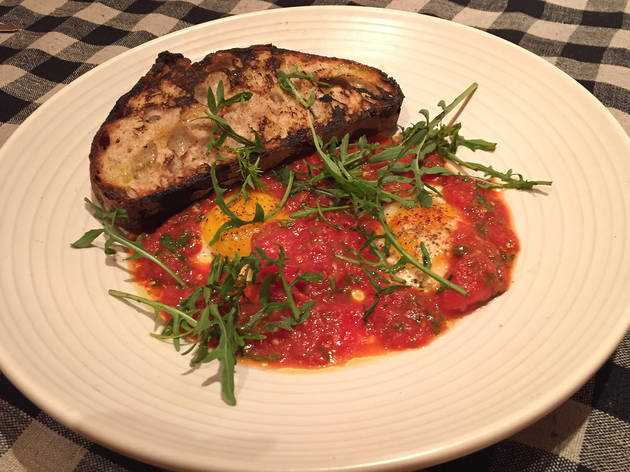 Upland
Let's put it this way: Where does the President of the United States go for an idyllic brunch burger when he's in town? Justin Smillie's splashy, Italian-tinged Gramercy brasserie, that's where. And when it's not busy sating POTUS's Peppadew-topped cheeseburger cravings, the copper-and-jade dining room beckons power brunchers and preternaturally leggy models, like Gigi Hadid and Iman, with smoked-salmon pizza, porchetta-and-egg sandwiches and farm omelettes shot with Bulgarian feta. 
Faro
Feeling generous—or simply hungry enough to eat for two? A section of the Sunday brunch menu at Kevin and Debbie Adey's hyperseasonal Bushwick, Brooklyn, restaurant is dedicated to large-format plates, ranging from a dry-aged duck hash with emmer and pumpkin to pollo alla cacciatora with mushrooms and bacon to meatballs with polenta, fonduta and bread to sop up every bite. Cocktails are also tailored to groups: They are available by the pitcher, including a tequila-grapefruit Kings County Sunrise and a Bloody updated with ember-roasted tomatoes and fish-sauce-spiked Thai caramel.
---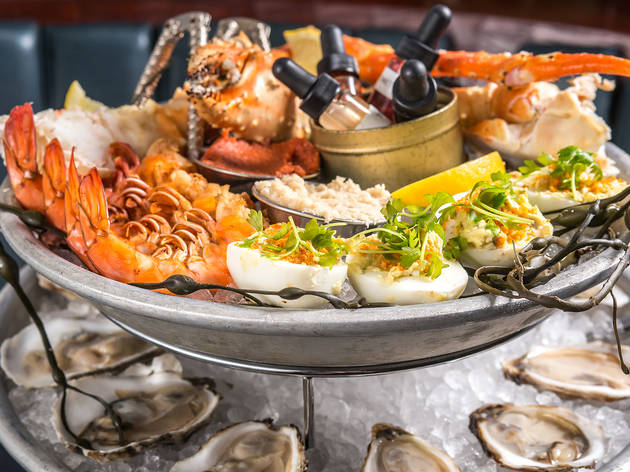 Grand Army
Bloody Marys are to brunch what pinstripes are to the Bronx Bombers. At this dark-wood, naval-inspired Boerum Hill, Brooklyn, tavern, you can get master barman Damon Boelte's civilized take on that time-honored hair of the dog à la carte, or bring a buddy to split the bar's brunch-on-steroids Bloody Mary Platter ($70). The head-turning spread comprises two house Bloodys (your choice of vodka, tequila or gin), two sidekicks of pilsner and a two-tier tower set with local bivalves, fresh vegetables, shrimp cocktail, deviled eggs and a colossal king crab leg that can be tricked out with accompanying medicine droppers of mignonette. It's a cure that almost makes your hangover from last night worth it—almost.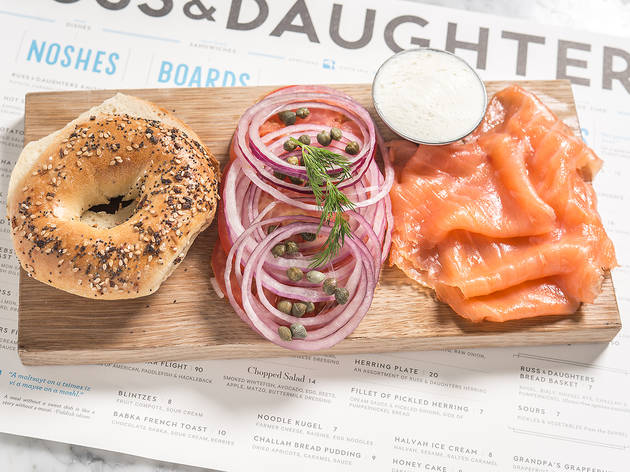 Russ & Daughters Café
If you've spent more than one Saturday afternoon waiting in line for a few gorgeous slices of nova, this is the brunch for you. Gather your fellow lox lovers and slip into a time-warp vinyl booth to split a smoked-fish platter for four people at the coffeeshop sibling of the Lower East Side's revered appetizing store. The beefed-up boards are each named after one of founder Joel Russ's daughters and padded with a laundry list of accoutrements (rye bread, cream cheese): The Ida is an ode to all things salmon; the Hattie is a mix of cold-smoked and hot-smoked fish; and the high-rolling Anne shows off primo varieties like private-stock sturgeon. 
---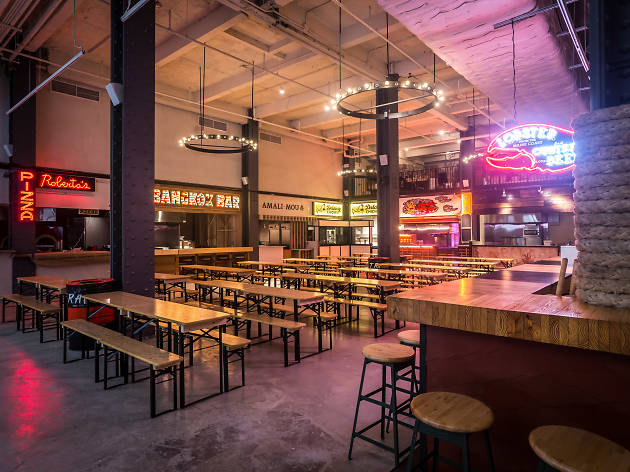 UrbanSpace Vanderbilt
Why settle for one brunch restaurant when you can have 20, all under one roof? This 12,000-square-foot midtown food hall from the Mad. Sq. Eats crew—rigged with stools at each counter and a communal area of picnic tables—rolled out weekend brunch this past fall with a belt-testing array of vendor options. And yes, by belt-testing, we mean glazed pulled-pork doughnuts with maple sriracha, a collaboration between Dough and Mayhem & Stout; playful speck-and-egg–capped pizzas from Roberta's, sans those Bushwick lines; and omelettes studded with crème fraîche, Gruyère and, naturally, lobster from Red Hook Lobster Pound.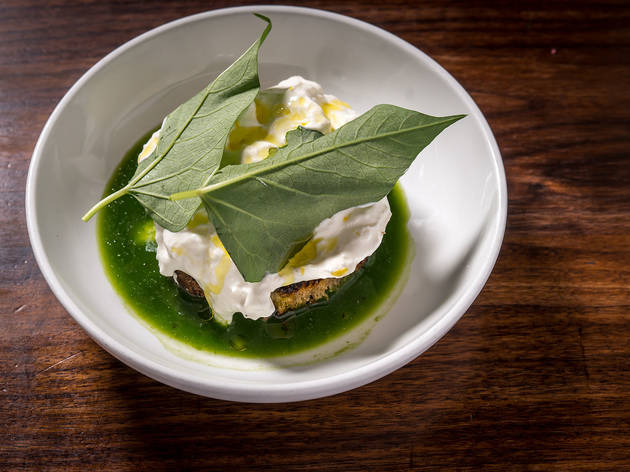 Estela
Ignacio Mattos doesn't do predictable. (The chef notoriously let his culinary freak flag fly with his space-age cooking at Isa.) And even the more toned-down, approachable work at his intimate brick-walled Soho restaurant with co-owner Thomas Carter (Blue Hill at Stone Barns) is still plenty bold. His grab-bag brunch? More of the striking same: lamb ribs glazed in North African chermoula and honey and the kitchen's superb burrata with herbaceous salsa verde and hunks of charred bread. 
---
Lupulo
Launched in April 2015, the brunch program at George Mendes's Portuguese tapas temple reprises the flavors of his home in toasts both sweet (a port-wine rendition with Vermont maple syrup and thick-cut country bacon) and savory (a wood-charred version slathered in avocado, black-eyed peas and sun gold tomatoes). Dinnertime salt-cod fritters are swapped for a bacalhau à brás—scrambled eggs flecked with flakes of cod and tossed with crispy potatoes, black olives and parsley—while the titular Lupulo Breakfast gives the classic full English an Iberian spin with piri-piri chicken sausage, two fried eggs and hash browns kicked with Portuguese spices.