NYC Craft Breweries
Great news, drinkers: New York's craft-beer revolution shows no sign of slowing down. A bunch of boundary-pushing craft breweries just opened in NYC, and upstate and Long Island are brewing up some killer facilities as well. Here are the very best beer makers in the state. Hit them up for tours, tastings and more. And if you're craving more suds in the city, check out the best beer bars in town and these awesome beer stores.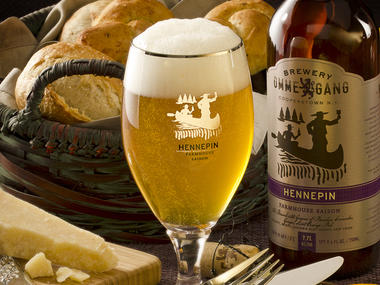 Brewery Ommegang
The Ommegang Hennepin Farmhouse Saison is a prime example of how American craft breweries continue to produce their own unique takes on classic beer styles without destroying the heritage on which they were built. This beer is full-bodied yet crisp, spicy yet refreshing. Other standouts from Ommegang's regular stable include the Gnomegang (yes, with gnomes on the bottle) Blonde Ale, the Rare Vos Amber Ale, the Witte Wheat Ale, Three Philosophers Quadrupel Ale and the Hope House Belgian-style Pale Ale. Annually, expect a few limited edition brews from this picturesque New York state brewery.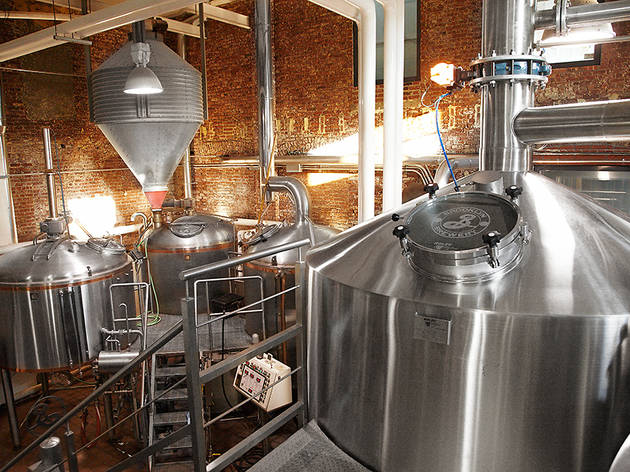 Brooklyn Brewery
Williamsburg's craft-beer facility offers reservation-only small batch brewery tours (Mon–Thu 5–7pm; $15) and free general tours on Friday, Saturday and Sunday (see website for details). You can also sample beer in the tasting room.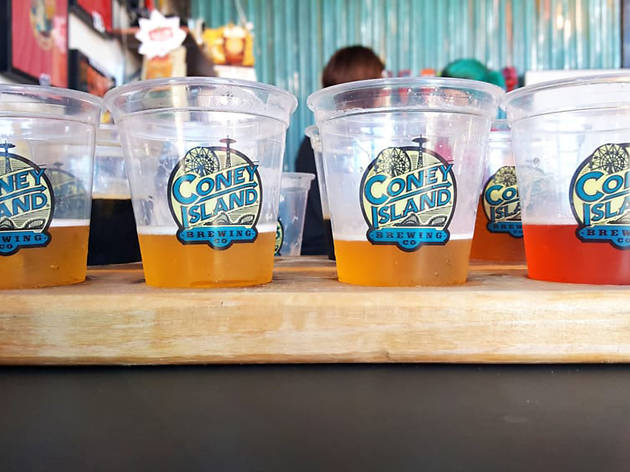 Coney Island Brewery
In between catching rays on the beach, head to this boardwalk brewery for a pint, a flight or to-go growlers of one of eight house-brewed draft beers, with options like the Mermaid Pilsner, the Overpass IPA or limited-edition stuff like a Kettle Corn Cream Ale and a watermelon-wheat Tunnel of Love.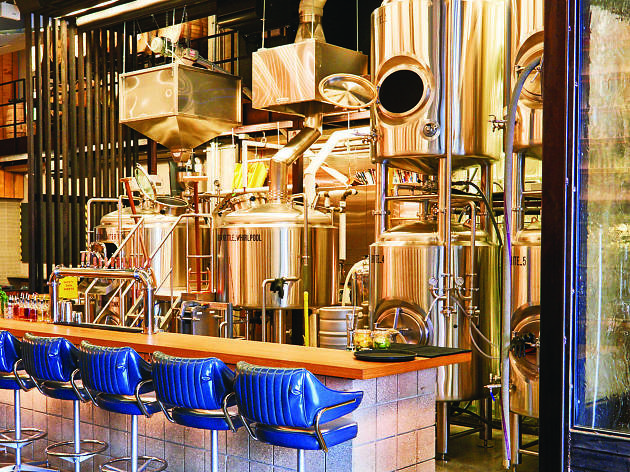 Circa Brewing Co.
Pairing beer and pizza tends to recall lazy nights on the couch, but the concept behind Circa, Downtown Brooklyn's new brewpub, goes well beyond tall boys and dollar slices. "We're celebrating these two seemingly simple products that have withstood the test of time, but we're also elevating them," says head brewer Danny Bruckert (Sixpoint Brewery). On the za front, Bruckert's twin brother, Luke (Little Oven Pizza in Portland, Oregon), helms the wood-fired oven in the completely open kitchen, where he's taken the much-maligned Hawaiian pie and turned it gourmet, charring and grilling fresh pineapples to accompany bourbon-glazed ham, sweet onion and creamy provolone. As for the beer, the small-batch suds run the gamut from German pilsners and amber lagers to adventurous pints like a tangy kettle-soured peach berliner weisse and a saison spiced with black peppercorn. All brews are crafted in the open-air exposed-concrete taproom-brewery hybrid, where you can watch the entire operation at work: brewers monitoring six stainless-steel tanks, barkeeps drawing from 10 taps behind a white-oak butcher-block counter, chefs tossing dough and pulling crackly crusts of salumi or clam pizzas from the oven. "I wanted to create a full-sensory experience where people can pull back the curtain and expose everything," says owner Gerry Rooney (Putnam's Pub & Cooker). "It's like a show. Everything is on display. You can trace your beer all the way from the brewhouse to the fermenter to the glass sitting in front of you."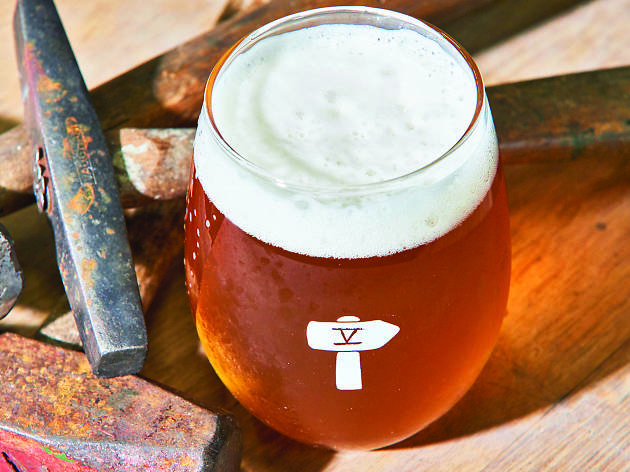 Fifth Hammer Brewing Co.
In Long Island City, Queens, already home to heavy hitters like Big aLICe Brewing and Transmitter Brewing, things are about to get funky. "I'm a promiscuous drinker, therefore I'm a promiscuous brewer," says head brewer Chris Cuzme (508 Gastrobrewery, KelSo Beer Co.). When his brewery opens later this month, you can expect a mind-boggling range of beers to flow from the taps, including kettle sours laced with passion fruit, mango and cherry; a roasted dry stout; toasty farmhouse golden ales; and pale ales aged in rye barrels handed down from NY Distilling Co. And Fifth Hammer's occasionally quirky side is evident in the decor, too: At the heart of the lounge is a 25-foot bluestone bar that was once the sidewalk at a Mount Vernon school, and—as a nod to its namesake—there's a collection of more than 300 vintage hammers that have been turned into tap handles and also outfit window sills.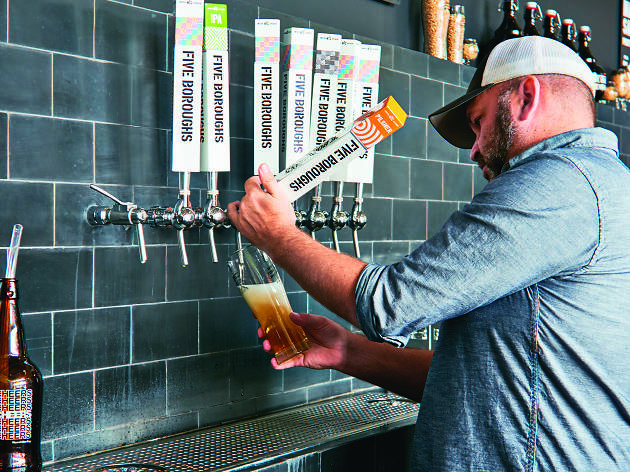 Five Boroughs Brewing
"It doesn't matter what neighborhood you're from: This is your beer," says Blake Tomnitz, who opened Five Boroughs' Technicolor taproom with his fellow cofounder, Kevin O'Donnell, in early August. During their short run, they've already lived up to their company's name, having hosted 17 launch parties at watering holes in—you guessed it—every borough. Inside Five Boroughs' sprawling 15,000-square-foot space in Sunset Park, Brooklyn—formerly a steel-fabrication plant—16 taps pour a mango- and pineapple-tinged gose, a double dry-hopped session IPA, an upcoming milk stout made with local chocolate, a sour aged in French oak barrels and more creative concoctions by lead brewer Nick Griffin (formerly of Southern Tier Brewing Co. and the Bronx Brewery). But the duo hopes to extend its brews far beyond its industrial HQ—which has a stage for future concerts and other shindigs—and, to quote O'Donnell, "resonate with all different types of establishments throughout New York." So far they're making headway, with suds served in joints as disparate as a one-tap watering hole in Williamsburg and a 36-handle sports hub in midtown.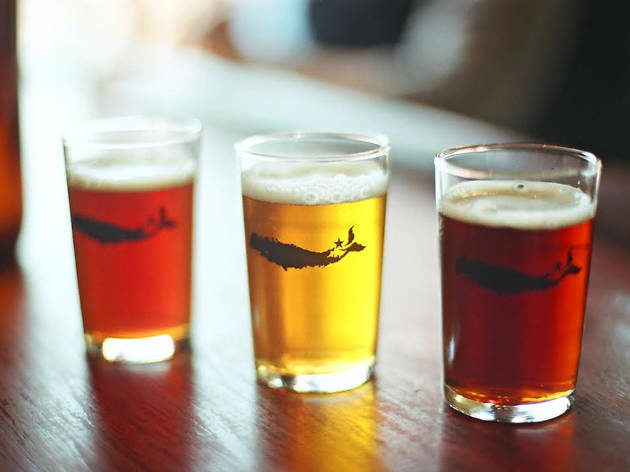 Greenport Harbor Brewing Company
While this North Fork brewery has opened a larger facility in Peconic, its original far-flung outpost in Greenport remains cozily housed within the fishing town's former firehouse—with serious small-batch ales on tap. The second-floor tasting room rotates a tidy selection, like the Bed & Breakfast, a cream ale and fittingly malty brew that's inspired by French toast.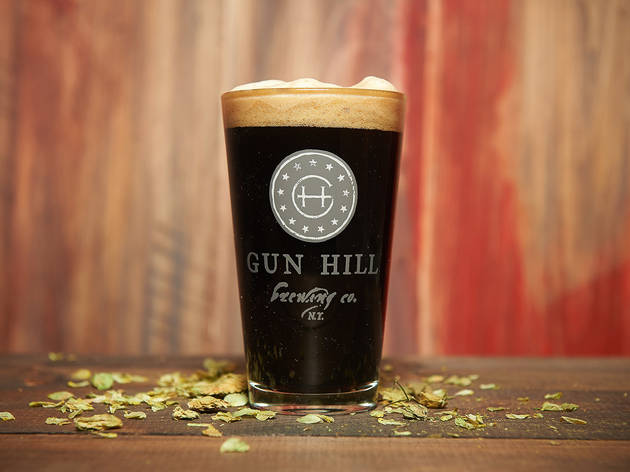 Gun Hill Brewing Co.
Since Rheingold closed shop in the late '60s, beer has been produced outside of the borough—City Island brews upstate and Bronx Brewery trucks in kegs from Connecticut. At this 5,000-square-foot draft operation, Chris Sheehan (Chelsea Brewing Company) makes all beer on-site, turning out a 30-barrel lineup of German-style ales, hearty stouts and a Frosted Hops ale, made with frozen upstate wet hops. The dark-wood taproom functions as a 25-seat bar and retail shop—a perk of a farm brewery license, which also requires Sheehan use local ingredients—selling pints, flights and to-go growlers.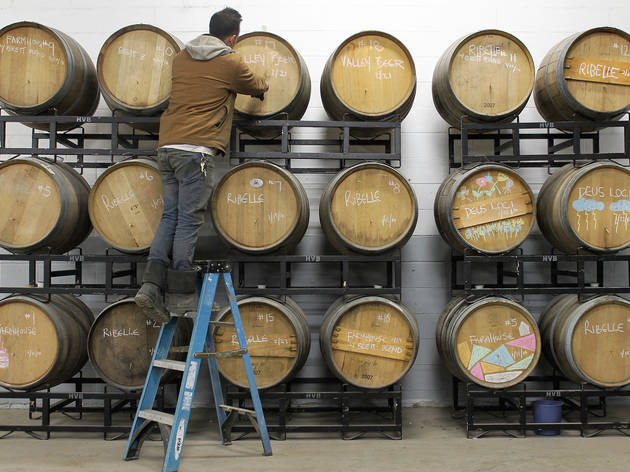 Hudson Valley Brewery
After snapping and hashtagging your heart out at Dia:Beacon, drop by Hudson Valley Brewery's new 2,000-square-foot tasting room, where a seven-figure renovation has turned an 1880s factory into a temple for sour beer. Pro tip: Sample the Ultrasphere—a limited-release sour IPA brewed with a vibrant mix of hops and conditioned on raspberries and vanilla beans—before it runs out.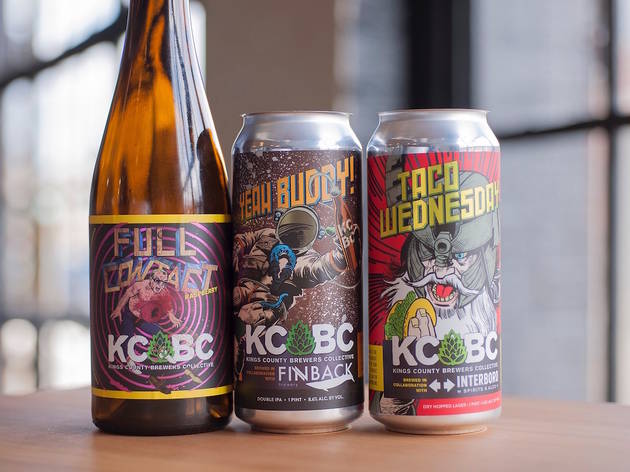 Kings County Brewers Collective
In the late 1800s, Bushwick was known as Brewer's Row, thanks to its 14 local breweries and thriving beer scene. Kings County Brewers Collective hopes to bring that back. The first to set up shop in the neighborhood since Schaefer closed in 1976, this brewery, warehouse and taproom brews all its suds on the premises. The selection of beers changes seasonally, but on a recent visit, bartenders were pouring the Beggar's Gold Belgian Ale, Formula Check American Pale Ale, Full Contact: Raspberry Sour Ale, IPA, Marble of Doom Sour Ale, Monsieur Maniac, What We Don't See Imperial Stout and Rainmaker Stout, plus Descendent Succession Cider. Want to drink it later? You can buy one of the collective's 32-ounce crowlers—a cross between a growler and an aluminum can—to take most of the brews on tap to go.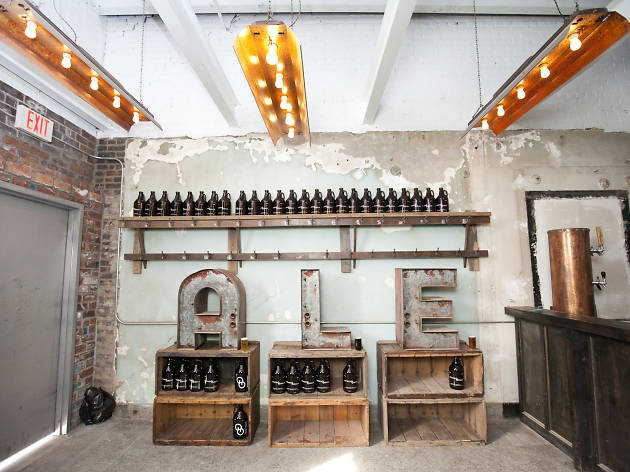 Other Half Brewing
After years spent manning the tanks at Greenpoint Beerworks, head brewer Sam Richardson struck out on his own with this IPA-driven brewery. The 4,000-square-foot operation—not to be confused with Chicago's Better Half Brewing—turns out five hops-forward beers, including a West Coast–style IPA, a cask-conditioned Motueka pale ale and a black ale brewed with winter barley. Heavier selections include an imperial stout and sour beers. The factory is open for hops-head visits on weekends, while a next-door tap room—rigged with a cherrywood bar and exposed lightbulbs—pours out pints and offers mix-and-match six-packs to go.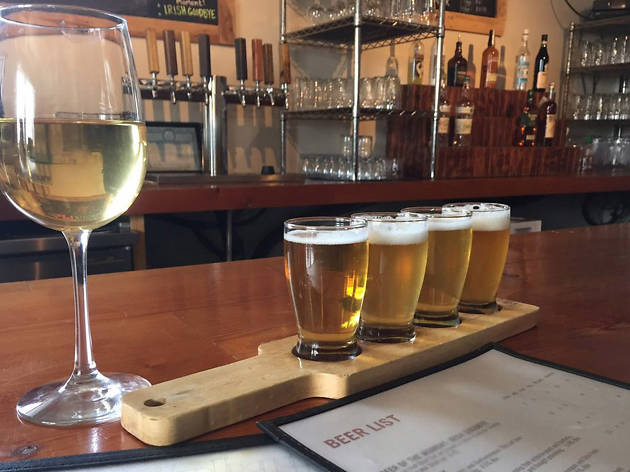 Peekskill Brewery
It's all about brews with a view at Peekskill. Inside the four-story establishment, beer in production bubbles on the ground floor, and an upstairs gastropub overlooks the Hudson River. Expect more than 10 beers, most with curious names; a past hit was Amazeballs, an American pale ale. Try the Wakeup Call, a pale ale brewed with coffee beans that'll give you a jolt.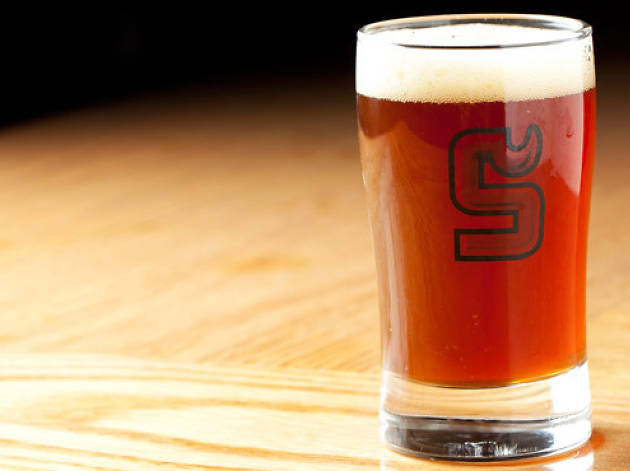 SingleCut Beersmiths
Queens—a brewery hotbed for German immigrants before Prohibition—rejuvenates its sudsy past with this 5,000-square-foot microbrewery and tasting room. Owner Rich Buceta, who cut his teeth at Greenpoint Beer Works, produces souped-up versions of classic styles, such as a Double Umlaut Lagrrr!, a German bock aged in old Jamaican rum barrels. Other offerings include a boozy Imperial Full Stack IPA and 19-33 Lagrrr!, an aggressively hopped pilsner. Sip a stein in the 25-seat tasting room, handsomely appointed with mahogany walls, red oak communal tables and hanging metallic lamps. Once you've had your fill, take your favorite brew to go in a growler. A stage for live performances adjoining the tasting room will feature live acts soon, reflecting Buceta's passion for music (the brewery's name references a part of a guitar's neck).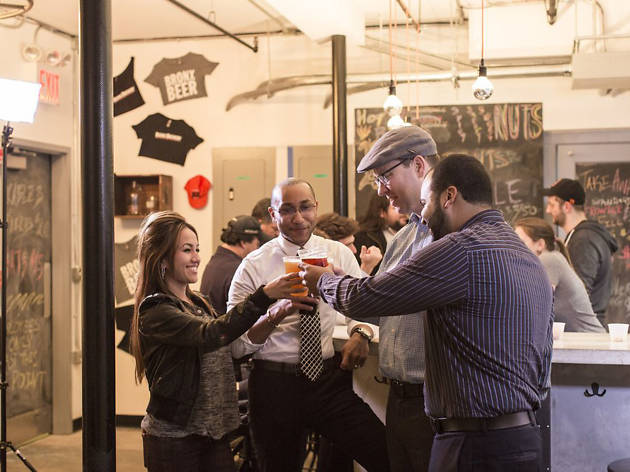 The Bronx
Up on East 136th Street in the Bronx, the ales steal the show. Start with the Pale Ale, then the Belgian, the Rye and the Session, ending up on one of the city's drops of the year, the Summer Pale Ale. Score a table in the Bronx Brewery's back courtyard, where the hoppy guava-driven Session IPA is the average call. Look out for the barrel-aged brews—should they be stocked, order the tequila barrel–aged Bronx pale ale.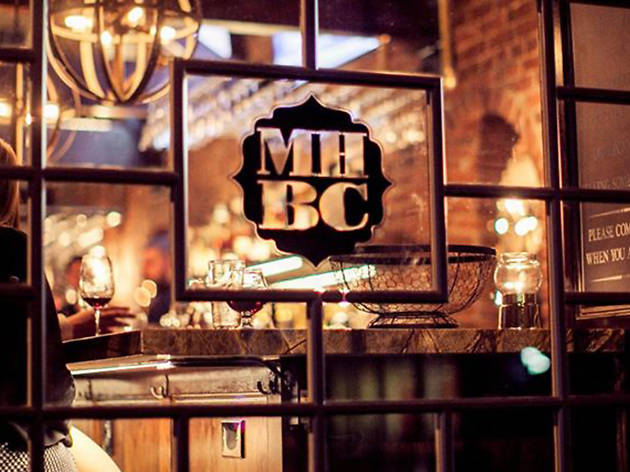 The Mill House Brewing Company
Jamie Bishop and Larry Stock went from childhood BFFs to brewmasters-in-arms after opening the Mill House Brewing Company in 2013. Their original brewpub is a smorgasbord of house-made beer and sausages that are a damn good accompaniment to Mill House's Oktoberfest beer. And the classic Cucumber Blessings is a cream ale that's crisp no matter the season.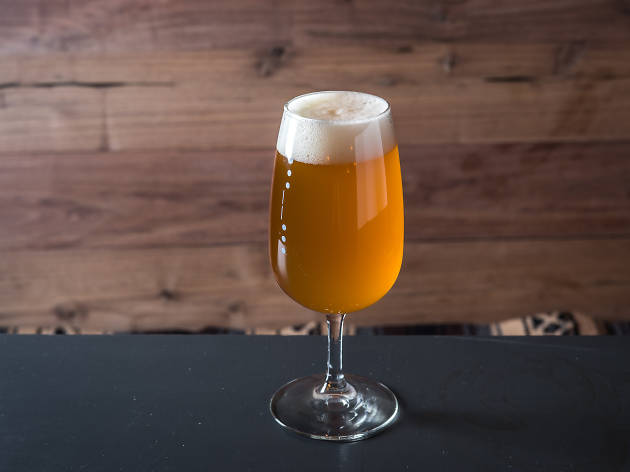 Threes Brewing
It's not shocking that three hops-head buddies would transform a 5,000-square-foot warehouse into a brewery. It's more unusual, however, when that concept evolves into a bi-level beast with a bar, an event space and, of all things, a coffeeshop. The unlikely combination aligns under the direction of Sycamore cofounder Justin Israelson, entrepreneur Joshua Stylman and lawyer Andrew Unterberg. Their multipurpose space sprawls over concrete floors with all the whitewashed brick and reclaimed wood you'd expect from a Brooklyn bar, along with draft beers and cocktails that you wouldn't.